Geschäftsführer: Mario Eckhardt
Thank you for your interest in our company and welcome at our website!
Whether you are one of our long-standing customers or a new client, we would like to give you a short insight into our everyday work and be a source of inspiration and qualified reference person.
We look forward to hearing from you.
Our construction company
Arnold & Eckhardt Bau GmbH & Co. KG is an construction company with tradition. We looks back on more than 100 years of experience.
Our family consists of a well-coordinated team, which is always in direct contact with customers and offers a personal approach for your project.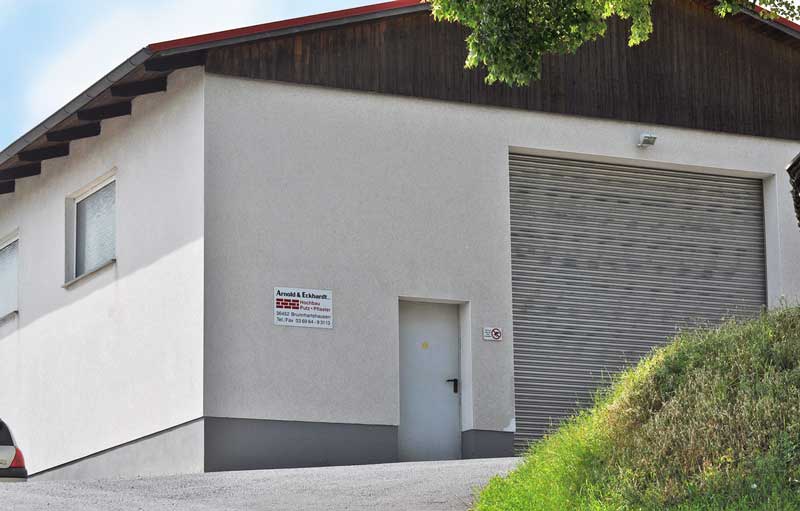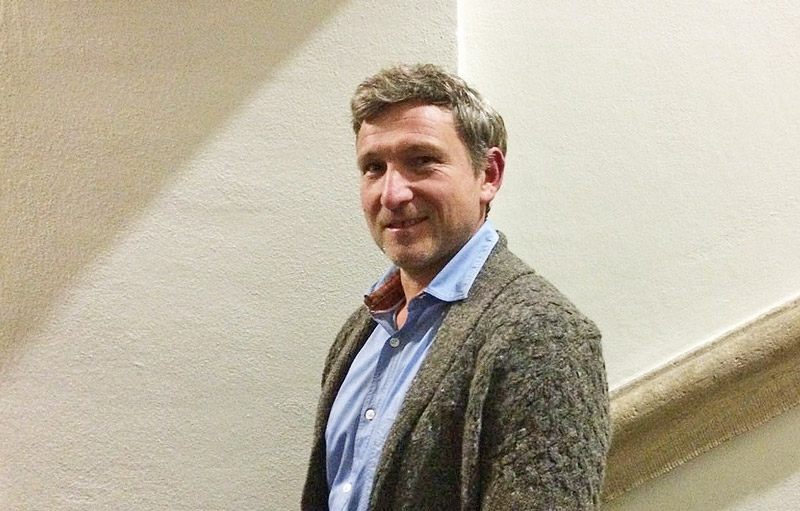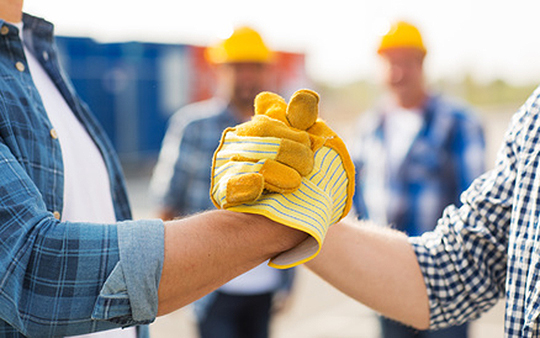 Our Services
Road construction and pavement work
Ever seen an entrance or well-kept garden without a nicely paved road or paved area for the next garden party? There are numerous design possibilities and materials which create a wonderful ensemble, if combined adequately.
We are pleased to advice you in the selection of the most adequate pavement (large stone pavement, small patch, mosaic paving, natural stones around your pool or pond), while taking into account your particular wishes.
Our services at a glance:
Paving
Natural stone paving
Ornament patch
Drainage
Retaining walls
Stairways
Driveways and terraces
New construction, reconstruction and renovation of old buildings
Building construction is necessary for realizing a planned home, a multi-family house or a commercial property.
Our construction company, Arnold & Eckhardt Bau, carries out all classical types of building construction. These include remodeling, expansion, extension and new construction work from foundation to plaster and screed work in interior construction. Furthermore, we carry out repair and restoration work in a comprehensive way.
Our services at a glance:
Masonry work
Concrete work
Screed / plaster work
Refurbishment of old buildings
Partition walls, floors, ceiling lining
Technical possibilities in interior construction have fundamentally developed within the last 40 years. There exist multiple variations for public, commercial and private buildings without having to renounce elegance and design.
We build classical walls with plastering or realize completely new rooms with light partition wall, ceiling and dry substructure systems. No matter what project you choose: for renovation, expansion, restructuring, insulation or simply for renovation, dry construction is quick, individual and economical.
This way, even changes to housing requirements considering thermal and sound insulation can be realized with little time expenditure. Also, special plasterboard walls and ceilings and in wet areas allow leeway for lighting, ornaments and fixtures.
Our services at a glance:
High-quality drywall for walls and ceilings
Fire barriers
Sound insulation work
Dry screed
Insulation work
Custom-made products
Plastering, insulation, facade construction
We realize interior plastering as professional base for coating, tiling, painting or wallpapering as well as for regulating room humidity. However, a feel-good-home also needs an aesthetic facade. We plaster your home according to your wishes with high-quality materials and standards. If you need any help in this case, please approach us.
If you also need thermal insulation, look no further. We provide professional insulation that comes with significant savings in heating costs, offers sound insulation, protects masonry and is the ideal base for a professional and individual facade design.
Our services at a glance:
Interior plastering
Exterior plaster
Thermal insulation
Facade design
Outdoor facilities, stairs, decks, ponds
To present a duly property, the design of the surrounding open space is very important. Especially in the private realm, a beautiful, thought out, professionally designed outdoor facility is a prime factor for fully completing the ambiance.
No wonder, the garden is nowadays called a "second living room".
Do you already have ideas? Wo will put them into practice. You don't have any? No worries! We will design your outdoor facilities and then realize them.
Our services at a glance:
Paving
Drainage
Retaining walls
Ponds
Stairways
Driveways and terraces
Consulting, inspection, supervision, report
As recognized surveyor and verifier for structural damage.
I support you in constantly occurring problems in the field of building defects and building damage, such as building moisture, moisture damage, water damage, damp cellars, plaster cracks and wall cracks, roof leaks, mildew, black dust contamination etc.
Common causes are planning errors, non-compliance with generally accepted rules of technology or simply "botched-up construction works". Often these building defects or building damages are not only a major annoyance but a severe economic and existential problem.
No matter if it is an apartment, a family home, a commercial property or a larger project.
Our services at a glance:
Advice for acquisition, building, utilization, occupancy of property
Investigate causes for building defects and building damage
Notice polluter
Proper and professional restructuring plan